It's earnings season and it is starting to feel a little like January of 2000 again, though on a much smaller scale.  If you remember that era, the consumer Internet bubble (B2C) burst around that time and the market briefly decided that there had to be another better bubble somewhere else, eventually settling on B2B (aka enterprise software).  At that point, the B2B Internet stocks, including the industry consortia, etc. had their twelve months of re-kindled fame until their bubble burst in January 2001.  Right now, the enterprise software providers (as B2B is now called) are riding high again based on strong growth in revenue and earnings, while some of the consumer darlings are starting to fray at the edges.
This past couple of weeks have led to some reduction in the still sky-high valuations in some of the consumer internet stocks (e.g., Groupon, Zynga, Facebook, etc.) while analysts have returned to extolling the virtues of the more slow and steady, yet prolific enterprise software providers (as B2B seems now to be called).  See here, here, and especially here.
Industry in the Cloud (IC) providers that I follow are especially hot right now:
LinkedIn (not quite an IC, but close) knocked it out of the park and has watched its stock price nearly double since January.  As a consequence, SAI Business Insider ran this chart comparing its performance to Zynga and Groupon.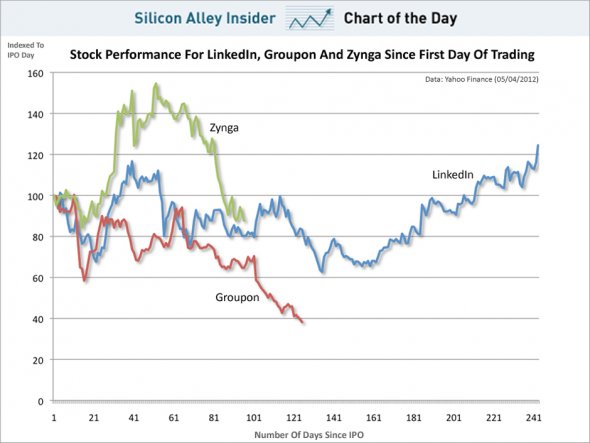 Ariba announced its quarter last week and the stock was rewarded with a new high.  The market apparently liked the seemingly accelerating growth rate of the Ariba Network.  Ariba's stock is up nearly 40% since January. (Disclosure:  I still own some Ariba from the time I worked there.)
Liquidity Services, which looks like it will be the consolidator in the surplus assets industry, moved up 14% this week on strong earnings and is up 71% on the year.  It is up almost exactly 100% since I wrote about it last September. (I did not buy it, however!)
Concur also announced this past week and watched its stock jump about 8%.  This one looks like a laggard since the beginning of the year, as it is up only 25%!  (Last August, when the market was swooning, I suggested readers take a look at the stock when it was $38.  It closed this week at $63.36.  (Again, I did not buy any!  I'm better at writing than playing the stock market.)
(Lest you think these stocks are simply being lifted by the rising tech market, the tech heavy NASDAQ index is up about 13% since the beginning of the year–a nice move–but nowhere near like these stocks!)
I could go on, but you get the point: enterprise software is hot and ICs may be even hotter. At least this time, unlike 2000,  the increased valuations are based on growth in real revenue and semi-real earnings (in many cases non-GAAP earnings).  Let's hope there is not a bubble impending for the Enterprise sector this time as well!