At almost exactly this same time in 2016 and 2015 I wrote about the consortia of banks, Symphony, trying to take on one of the most successful enterprise software platforms of all time:  Bloomberg (see here and here).  Now comes the 2017 update:  the battle is on!
Bloomberg Unbundling Chat
Several financial news organizations (not including Bloomberg) are reporting that Bloomberg is unbundling its popular chat functionality from its information services.  The chat service will cost $10 per user per month, while the information services still run about $22,000 per year.  As one analyst in the FT put it, ""They're betting the whole system without chat is worth $21,900 a year. Is it? Maybe for some old bond traders, but for everyone else, I don't think so."  (Apparently, Bloomberg will only sell the "unbundled" chat to organizations that have at least one terminal.  So it is really more of a linked bundle!)
Symphony Gaining Traction
Why would Bloomberg, famous for not discounting, take this rather radical action?  For obvious reasons: Symphony is gaining some traction for its $20/month stand-alone chat functionality.  According to the FT, Symphony has signed up 235,000 paid subscribers.  Symphony is also starting to work with information providers to build up an information offering.  In addition, FT reports the number of Bloomberg terminals fell last year for only the second time in the company's history. (The other decline in terminals was during the financial crisis).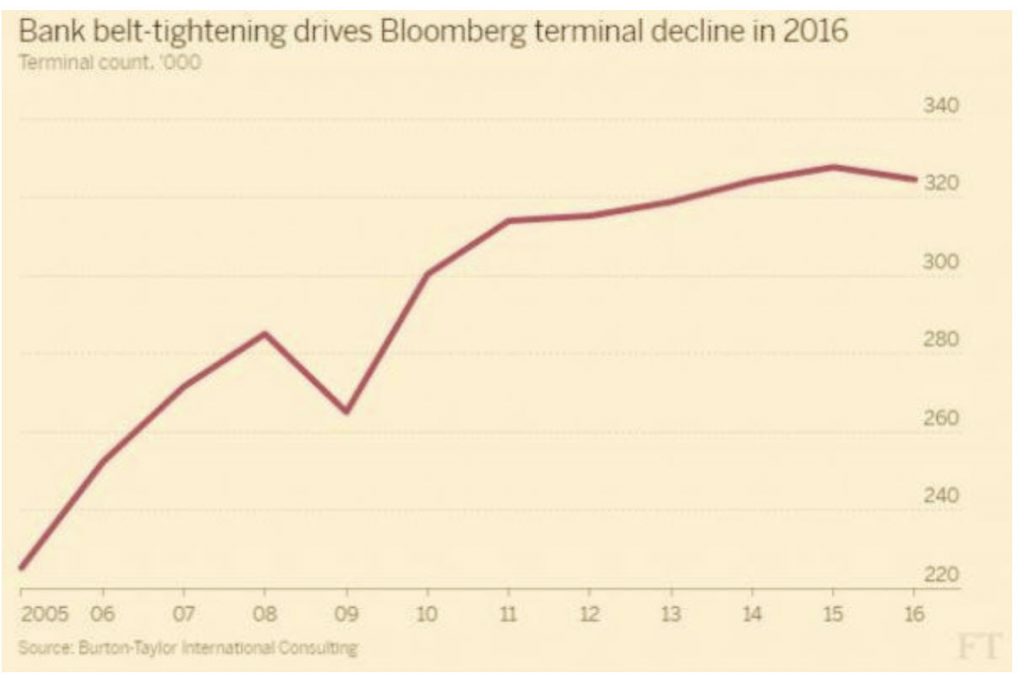 Bloomberg is trying to undercut Symphony before it can get even more traction.  It's a very aggressive strategy that could lead to more unbundling of what is perhaps the ultimate bundle in the information business.
The Bloomberg Professional Service
If you are not familiar with the Bloomberg Professional Service (everyone calls it a Terminal, but it can be consumed on a PC) and its story, you owe it to yourself to learn about it.  It is a truly amazing example of a hardware/software and information aggregation business that has very few parallels.  The company was once the upstart.  It was also owned by Merrill Lynch and could not sell to other banks.  Once it gained its freedom to sell to others, it eventually became the giant.  Now the big banks have created their own upstart to seek revenge!
What goes around comes around.