Let's start with a few disclaimers:
 Anyone who takes investment advice from me, probably ought to have their head examined.  (Almost all of my money is invested in index funds and just two great professional money managers North Star Investments and Ariel Investments (where I am on the board).  Both of those companies are run by friends of mine that I have known since kindergarten and high school.
These are enterprise stocks I said to watch, not buy, because who knows what will happen in this crazy market.  (I tend to think the market might get lower as earnings seasons begins, but I'm usually wrong.)
This is a highly idiosyncratic list of enterprise SaaS stocks.  I stay away from the large-capitalization stocks and tend to focus on the supply chain, payments, and networks.
When I invest, I invest laughably small amounts of money, so I won't cry when I lose it.
Enterprise SaaS Stocks I Bought Recently
I bought some NIC (EGOV) recently.  NIC sells software to state and local governments.  Governments never go out of business.  And NIC has a solid balance sheet as well as a dividend yield of about 2%.  I've written about the company before here and the stock had gone up quite a bit since then.  When it came back down I was pleased to get in.
I also bought some Microsoft (MSFT).  It was silly to buy MSFT because the company is well represented in index funds. But when the stock came down I figured now was a good time to buy since a lot of people were going to be forced to use Microsoft Teams. No one would choose Teams, but if forced to use it they might get used to it.  (To be fair, Teams is getting better.)  I was a few years late on MSFT!  Luckily, the folks at Ariel bought when it was in the $25 range!
Enterprise SaaS Stocks I'm Hoping Come Down Again
American Software (AMSWA).  North Star Investments introduced me to this one, so I own it through them.  It's a supply chain software company with a rock-solid balance sheet that pays a dividend yield of 3%.  The stock is $14, but it was as low as $9 the last couple of weeks.  I cannot believe I did not buy more at $9.
Phreesia (PHR) is a healthcare software provider in the patient intake space which should recover when patients go to their doctors' office instead of directly to hospitals.  I wrote about Phreesia here.The stock is finally below its recent IPO price and I'm hoping for my sake, not theirs, it will come back down again.
EML Payments (EML.AX).  EML is a small payments company in Australia.  It is growing rapidly.  EML is profitable and is in some really interesting payments segments:  gift cards, gambling, and virtual account number (B2B) payments.  A friend told me about it when it was under A$1 and now it is A$2, though it has been as high as A$5. I may not wait on this one.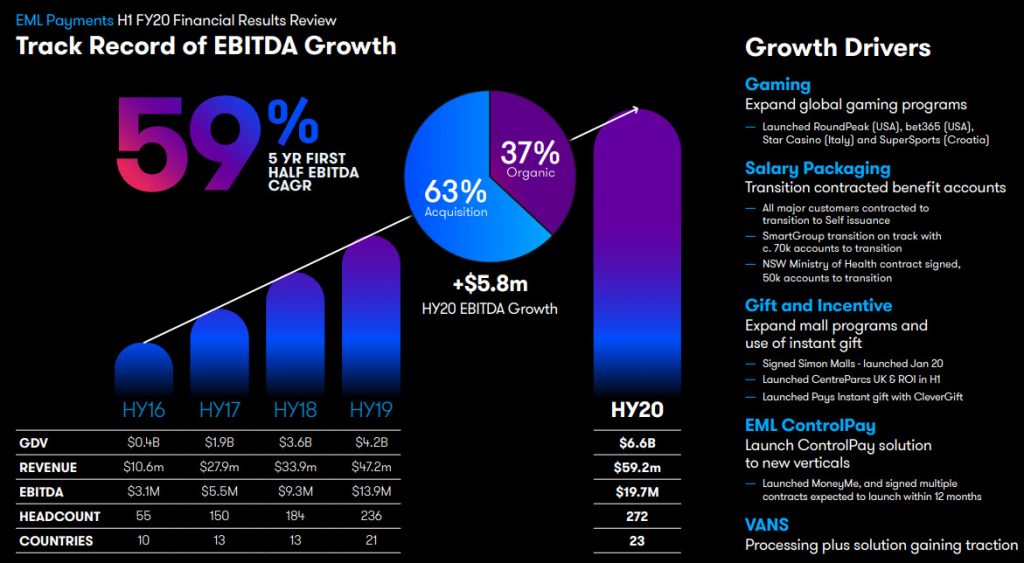 Enterprise SaaS Stocks I Can't Decide About
Tungsten Network (Tung:L).  I've written about this company many times–too many given its relative importance.  See here and here.  It's done many things wrong–like buying a bank, but it has survived.  It does not grow much, it just barely turned profitable, and does not have a lot of cash on its balance sheet.  So why is at all interesting?  Well, it still processes 17 million electronic invoices, $180 billion in spend, and has blue-chip clients that don't leave.  E-invoicing providers are very sticky and e-invoicing should get a lift from the recent coronavirus disruption.  (Who's going to go into the office to pick of the mailed invoices?)  Tungsten's main shareholder recently bought more stock, as did its Chairman.  Tungsten sells for 1x revenue.  Someone may buy this company.
Park City Group (PCYG).  This company fascinates me.  Park City Group is trying to do something really hard: combine a marketplace, a supply chain solution, and a compliance solution in the food and beverage and grocery markets.  I've watched the company try for years and watched the stock slide since I became aware of it.  The company grows modestly (and haltingly) and makes a little money. It has a solid balance sheet.  And, perhaps best of all, it is run by Mr. Fields–the husband of Mrs. Fields (as in the cookies). Seriously.
I hope these notes have given you some food for thought.   As you know, Warren Buffett always says, "Be fearful when others are greedy. Be greedy when others are fearful."  Which I think is a great motto, but is much easier to espouse when you are worth $60 billion (or just $40 billion)!